With this step-by-step guide you will learn how to stake Zilliqa (ZIL) while keeping full control of your funds.
The most feasible staking option for network participants is by delegating their tokens to a Validator. This is a simple transaction that can be facilitated via a Staking-enabled Web-Interface / Wallet.
Below we show you the steps to staking via the recommended Zillion Web-Interface Other recommended options for ZIL staking are:
The only requirements for you are to have at least 10 ZIL tokens. Please note that your funds are subject to a withdrawal period of 14 days when being staked.
1. Sign in for Delegators
Go to the official Staking Web-Interface and click "Sign in for Delegators".
Connect your Zilliqa Wallet such as Ledger or ZilPay to log in.
2. Select a Seed Node
Inside the platform, you can see all the data, such as a summary of your stake, and at the bottom the various operational seed nodes with all the functions such as the total stake, the fee percentage, and the number of delegators they have.
If you are unsure which seed node to choose, you can visit the Staking Rewards Zilliqa Seed Nodes Ranking and learn more about each of them.
According to your needs, you can choose the seed node that you most comfortable with by by clicking the "Stake" button.
3. Confirm the Stake
In the next screen, you have to enter the number of ZIL you want to stake (at least 10 must be deposited).
The interface points out that we must also have at least 100 ZIL to withdraw funds.
Finally, you press the "Stake" button and confirm the transaction with your wallet by paying the relevant fees, which generally amount to 25 ZIL.
Once the transaction is completed, in a few minutes you will see in the section "My Staking Portfolio" the data of your stake and how many ZIL and gZIL have accrued.
4. Claim Rewards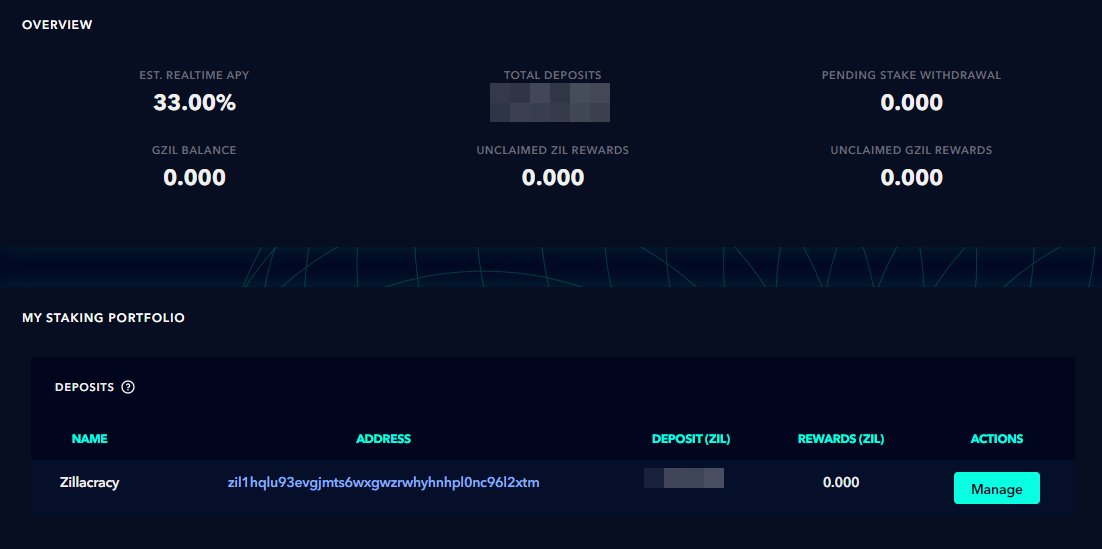 It is recommended to regularly claim rewards for the compouding effect of your stake. To claim the rewards you have to click on the "Manage" button, choose between "Claim Rewards", "Transfer Stake" and "Initiate Stake Withdrawal" and confirm the transaction.
Congratulations you are now delegating and earning ZIL!